An analysis from Danmarks Statistik shows that retail sales in March 2020 have dropped by 4,5 percent, which not only shows the most significant decline ever but also that the situation for the retail industry has been far more serious than previously experienced. In comparison, the most significant drop in retail sales in a single month during the financial crisis 2008-2009 was 1,4 percent.
The clothing industry has in particular been suffering during Covid-19
Clothing retailers have in particularly been suffering because of the lockdown - in March, sales dropped by 26,7 percent. Fortunately, results from May show that sales of clothing are already rising at a high pace again. A number of restrictions were lifted on May 11th, which meant that department stores could reopen and that the stores could gather more customers in smaller areas. As a result, clothing sales increased by 98 percent in May compared to April. However, this does not mean that sales are back at the same level as before Covid-19. A recent survey by YouGov shows that 30 percent of Danes still spend less money on clothing in physical stores than before the Coronavirus outbreak.
The same applies to the Tourism - and Experience industry
It is not only the retail (more specifically the clothing) industry that has been struggling due to the restrictions caused by Covid-19 – the Tourism and Experience industry has undoubtedly struggled as well. A study conducted by Epinion shows that approximately every third planned holiday abroad for the summer of 2020 is converted to a holiday in Denmark.
The Danish experience industry usually gets a large part of their income during the summer months from Danes, but especially from international visitors. A significant number of foreign tourists in Denmark are not expected this summer even though the reopening in mid-May means that museums, cinemas, etc. are again open. Epinion's study shows that approximately 1/4 of Danes could only imagine visiting a museum or other attractions when the whole society has reopened and/or the risk of getting infected with the Coronavirus no longer exists.
The consumption of the Danes is positive in the following areas…
As a result of Covid-19, Danes spend less money on travel, experiences, and apparel – but what do Danes spend their money on when a global pandemic has turned our society upside down? We have collected some areas where the consumption of Danish citizens is growing.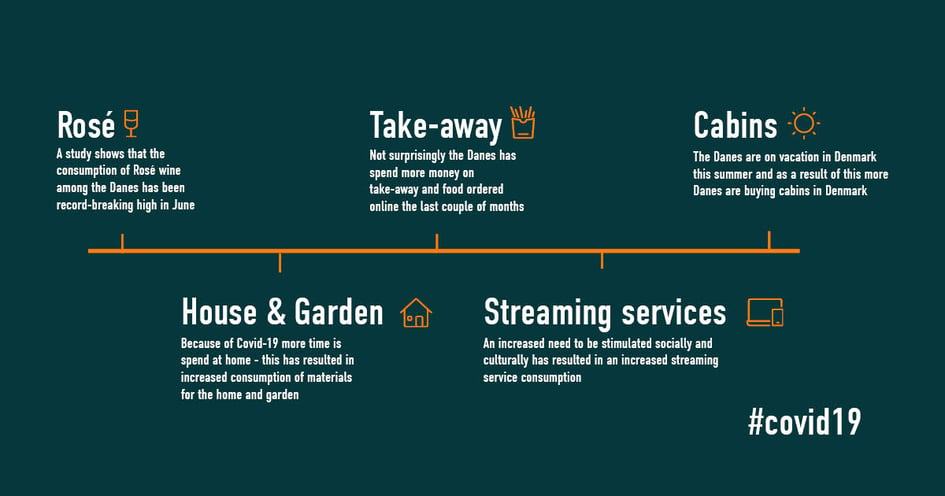 Rosé wine
Most Danes will spend the summer of 2020 in Denmark and the summer holiday atmosphere must therefore be implemented in the Danish weather. For many, summer is equal to sun, heat and an ice-cold glass of rosé. Unfortunately, with a summer in Denmark, it is not given that you experience either sun or heat which means that you have to make sure that you at least do not lack rosé wine – and this is exactly what the Danes have done. Coop Danmark has conducted a study which shows that the sale of rosé wine is breaking records in 2020. Compared to July last year, there is an increase in sales of rosé wine of 33 percent.
House and garden
Due to several months of lockdown many have spent more time at home than usual. It has given opportunities to review and to rethink the decor and condition of both house and garden.
A study from Danmarks Statistik shows that the category "other consumer goods," in the months of the lockdown, has not been as affected as other categories. The sales have already from April started to rise again. Also, an article from PHD media shows that consumption for "do-it-yourself" projects has increased by approximately 50 percent compared to 2019. This may indicate that the Danes, due to the lockdown, have found time and money to do something with their home. In recent months money has been saved from the lack of restaurant visits and traveling, and therefore, there has been more money to spend on restoring the home. At the same time, the summer vacation is now spent at home, which means extra time for décor and construction projects.
Take-away
Perhaps not surprisingly, take-away is on the list of what the Danes have recently spent their money on. The same applies to buying groceries online. To reduce the risk of getting the Coronavirus, many Danes, in recent months, have ordered their meals to be delivered at their address or made sure to buy ready-made dishes, to avoid spending too much time in the supermarket surrounded by potential infection carriers. An article from Inside Business states that sales of take-away and food online increased in April by 12 percent compared to normal.
Streaming services
Together with ordering take-away and food online, the Danes increased their consumption of streaming services during the shutdown. With more time at home and less time in social and cultural contexts, the need to be stimulated has grown. As a result, more people are buying streaming services, to be entertained by movies and TV series on the Internet. A study conducted by YouGov for DFI shows that a little less than 1/3 watched more movies, and a little more than 1/3 watched more TV series during the lockdown period. The survey shows that almost all streaming services have experienced an increase in subscriptions during the lockdown. E.g., blockbuster has experienced a 25 percent growth in its user base.
Cabins
With a "forced" holiday in Denmark, many have been tempted by becoming the owner of a Danish cabin. The latest results from Boligsidens Markedsindeks show that cabin prices have increased by 1,2 percent from May to June and 3 percent compared to last year. The negotiated discount of the price is also on the lowest in 10 years, which according to the Boligsiden, is because the supply is low, but in particular, that the Danes are spending their vacation in Denmark.