Cloud-ready POS solution
Our hybrid cloud solution contains two of our modules in a cloud-setup – Back Office and Omnichannel – with the possibility of combining it with a local POS installation.
There are several advantages by moving your business to the cloud. Among other things, it's simple and quick to install, it's highly scalable, and the security is increased with continuous backup. Furthermore, you can access realtime data anywhere, anytime, and the flexibility is huge, as it can be installed on different devices. And most likely also on the hardware you've already got.
Back Office – Better overview of your business
Back Office is the flip side of 52RETAIL where you can keep an eye on and adjust business data. You'll have an overview of realtime sales numbers in the dashboard and for example on the fly, set up discounts and campaigns and manage invoices. Furthermore, our Back Office has been "facelifted" so it now presents a simple and clear overview of data maintenance. Read more about the new version of Back office here.


Omnichannel 24/7
The new version features a redesign which includes cloud-ready SQL-database. Moreover, the system is built on 24/7-architecture that ensures uptime and scaling.
The Omnichannel module also features a new version of our Basket API which handles different prices per store. This means that 52RETAIL now supports retail chains with many stores that have different local prices. Individual store managers have greater flexibility and better possibilities of selling their products when the price is right.
Do you want to know more about what omnichannel is and entail? Read here and get in-depth answers to questions like What is omnichannel? And how do I create a successful omnichannel strategy?


Improving the user experience
We have been working on our UX to create a new user experience for all the emloyees using 52RETAIL – whether they are working with the solution at the till in the store or from the head office. 52RETAIL is now web based, responsive and easy to navigate in.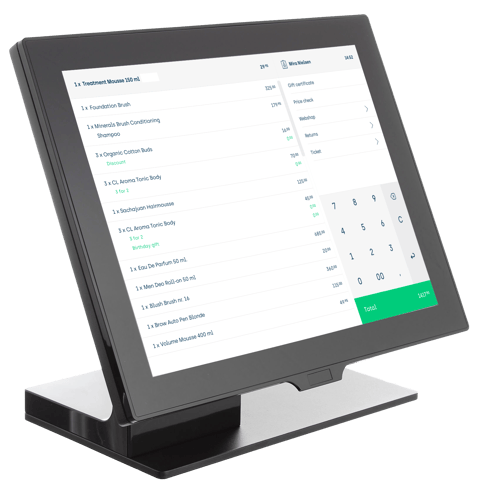 Touch POS
The new version is a combination of redesign and functionality and is very intuitive to use. The full version will be available next year but this version still features a redesign of the Journal Window with an improved overview of discounts.
Advanced discount engine
With our discount engine you can create advanced and organized discounts. Smart discount is our new functionality where you can see the gross profit on a set of articles and give a discount on each set of articles.
Get more customers through the store faster
Not only your employees should benefit from an improved user experience. We know how important it is that the customers get a good experience when they shop via your sales channels for them to come back. They would like to have options and solutions that work and at the same time they don't want to wait in line. That's why we have developed two completely new self-service solutions both increasing the number of ways your customers can buy your products but also giving them an efficient and flexible buying situation. Both can be seamlessly be integrated with other Checkout Arena solutions, like ITAB (Learn more about our collaboration with ITAB).



Mobile self-scanning
Mobile self-scanning is developed with focus on a user-friendly design. Customers can either use their own phone or a handheld scanner provided by the store. No matter what the customers choose they'll not stand in a long line at the end as they scan their items along the way and pay at the exit.
The solution can be used stand-alone or integrated with other Checkout Arena solutions and contribute to for example fraud protection or scanning of a unique transaction number in setup exit gates. Read more about the product here.
Self-checkout
As with mobile self-scanning this solution is developed with focus on user-friendly design and navigation. Part of your customers most likely know your products and don't need help and guidance when they stop by to buy their favorites. They just want to buy the items and move on quickly. Instead of lining up in the queue by the traditional checkout, you can offer them the possibility of self service by the self-checkout units designed exactly for that purpose.