In a webinar with Ashley Dudarenok, marketing-focused thought leader and three-time bestselling author on Amazon, we get an exciting insight into the Chinese market and its latest trends. Ashley Dudarenok talks about "Social+," which she points out is the next big trend in retail and e-Commerce. Continue reading to understand better what Social+ is and how you can implement it in your business.
What is Social+?
Social+ is a new, advanced concept from China that describes your customers' journey from just being customers to becoming true Business Partners through specific and different methods. The purpose of Social+ is to make your customers a much more integrated part of your business so that feedback, expertise, and promotion will create real value for your business. With the Social+ method as part of your business model, you can work on your customers becoming Content Creators, Promoters, Product Co-Creators, and maybe even Business Partners. Ashley Dudarenok has explained to the E-Commerce Conference 2021, Dansk Erhverv Digital, which tools are used in China to achieve just this. Below she describes how the tools work in practice and thus how you can be successful with Social+ in your business.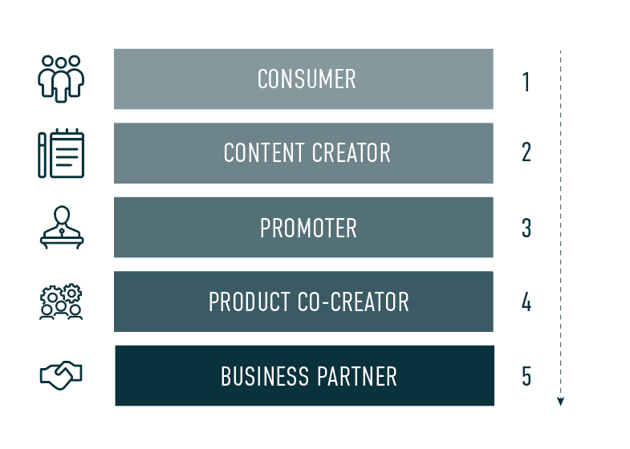 How do your customers become more than just consumers?
1. Content Creators
For your customers to evolve from being Consumers to Content Creators, they need to create content on one or more of your platforms. An example of a company that has had great success with this is the Chinese company, TikTok. TikTok is a social media platform owned by ByteDance, which in the autumn of 2021 rounded one billion users worldwide. On TikTok, users can post content in the form of short videos where they imitate songs, dance, show off their talents, etc.
TikTok saves both time and money using this business model as their content creation is outsourced to their customers. In addition, TikTok has a feature where users can link their Instagram profile to their TikTok profile so that users automatically advertise TikTok on their other social media platforms. This way, TikTok has also succeeded in turning its users into promoters, which we will discuss in more detail in the next section.
2. Promoters
When you turn your customers into Promoters, they become wandering advertisements for your business. One way to do that is to create giveaways where your potential customers need to share your product on their social media to participate. That way, you reach a wider audience without the huge expenses of doing traditional advertising. The method is particularly effective, as the credibility of your potential customers among their followers is higher. Therefore, their followers (and your potential customers) will be more receptive to advertising and maybe even go in and participate in your giveaways.

You can also give out free test samples of your products in supermarkets, train stations, etc. This will help your products reach an even more significant part of your target group. The chances of your customers recognizing and purchasing your products are higher when they are exposed to them often.
If you are interested in learning more about today's consumers and their shopping habits, you can read here: Who is today's consumer? From Baby Boomers to Generation Z
3. Product Co-Creators
Should your customers be involved in developing your products? The company Florasis Beauty has had great success in including their consumers in the product development process. They sent out free product samples to their customers through their app, expecting feedback on the products in return. This way, their customers will become "Product Co-Creators," as they help to improve Florasis Beauty's products. You get happy customers while innovating and improving your products at a minimal expense. Also, this method helps develop a relationship between your company and the consumer, as the consumer feels a greater connection to the products.
Furthermore, it has the great advantage that customers become familiar with your products, thus having a greater probability of recognizing the products in the stores.
4. Business Partners
Finally, you can turn parts of your customers into real Business Partners. This method is already relatively widespread in the retail and e-Commerce market, known as influencer marketing. A discipline in which companies collaborate with Influencers who share and promote their products on social media and in communities. The price varies depending on the size of the influencer's follower base, celebrity factor, activity level, how many posts you want, etc.
Get started with Social+
You must dare to try some things before launching major strategic projects related to Social+. You need to be willing to think outside the box and experiment with how you view your customers. The benefits of Social + may seem long-term, but we certainly think it is worth the wait. Of course, you want to get closer to your customers, increase the chances of expanding your customer base, and create more sales. Many retailers and e-Commerce companies have already realized this value creation and implemented Social + in the business.