On the contrary, most consumers still prefer to shop physically, where they are offered a personal service and experience the products in real life. It will certainly be valuable to have a physical presence when the world reopens.
Many so-called online pure players - retailers who are only present online - also choose to expand their business with a physical store or showroom. They do this because online and offline channels each have their strengths. It is just a matter of finding them and leveraging them to create the best customer experience. In this blog post, we will take a closer look at how you, as a retailer, can strengthen your physical presence.
It may be relevant for physical retailers to look into utilizing new technology to enhance services and refine the entire experience in the physical space. Many have already done so.

More and more retailers have transformed their traditional business into a so-called Smart Store. A Smart Store is simply a physical store that uses smart technologies to enhance and personalize the customer experience. Below we have listed some of the technologies physical retailers have implemented to enhance the customer experience.
Self-service technologies - let customers control their own purchasing process.
When consumers shop online, they can do so at their own pace while avoiding standing in line. Physical retailers can offer their customers the same convenience by investing in self-service technologies. Bauhaus, Fleggaard, Carls jr., and Netto are among the retailers that have implemented self-service solutions, such as self-scan, touch-screen kiosks, and scan-and-go their physical stores. The self-service solutions let customers control their purchasing process while minimizing the line at the checkout. The employees who should have been at the checkout can now be 100 percent available to customers in the store and inspire them with knowledge, product demonstration, and suggestions.

Before investing in self-service solutions, it is relevant to examine whether it makes sense in terms of the size and concept of your business. There are especially high demands for convenience among retailers who serve many customers and have many different items for sale.

Read more about the benefits of implementing self-service solutions in your business here.
Electronic shelf lables - less manual labor, competitive prices, and better shopping experiences
Traditionally, physical retailers have had (many still have) analog price tags for each product in their business. The production of price tags consists of manually producing the tags and continuously getting the products priced and updated frequently. It can quickly become a time-consuming process when the prices of individual products have to be changed whenever there are new offers and/or price changes in the market. For many physical retailers, this can mean that prices are not adjusted correctly in time, and with the price focus we have today, it can result in the customer choosing to buy the item elsewhere.

Electronic shelf labels give physical retailers new flexibility in everyday life and a better opportunity to keep up with market trends. It will be easy to update quickly and change prices, e.g., for specific day-to-day offers or ongoing price adjustments in the market, without going to the shelves and manually updating data. This way, electronic shelf labels help to ensure a greater probability of conversion in the stores.

For online retailers expanding with a physical presence, electronic shelf labels can be a huge help. Online retailers are used to changing campaigns and offers with one click. A physical store without electronic shelf labels will require staff who dedicate a large part of their work to manual pricing. With electronic shelf labels, human resources can instead create great customer experiences in the new offline universe.

In addition to reducing manual work and ensuring updated prices, the electronic shelf labels can personalize and improve the in-store customer experience. Some electronic shelf labels can recommend similar products or "often bought together" products. For example, a conditioner for "colored hair" may be recommended beneath the shampoo for "colored hair."

There can also be incorporated product reviews/experiences in the electronic shelf labels. This feature provides particular value because most consumers are likely to listen to fellow consumers when purchasing a product.

Many have discovered the benefits of electronic shelf labels, and the implementation of the technology is a growing trend among physical retailers. A recent report estimates that the global ESL (electronic shelf label) will grow to more than 15 percent CAGR between 2018 and 2024.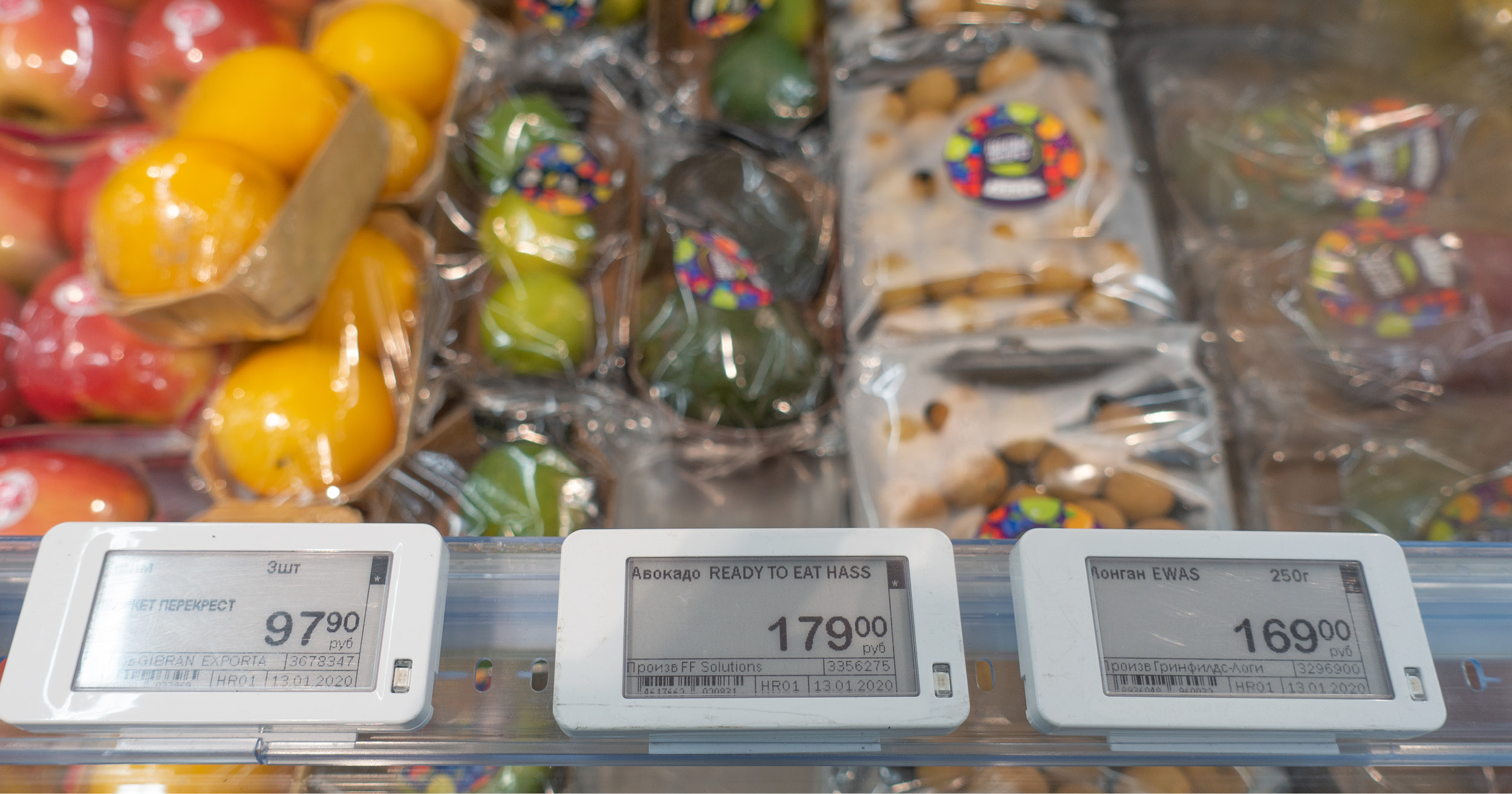 Beacons - inspire and retain customers.
A major topic of conversation right now is how shopping malls and city centers will do in the future and what can be done to ensure their survival. In this case, beacons might be a solution. The Herning Mall is an example of a shopping mall that uses Beacons to inspire and retain customers.

With insight into their customers' data, e-Commercers can present great offers, discounts, and personal recommendations when the customers visit their webshop. With beacon technology, physical retailers have the same opportunity.

Beacon technology got its name for a reason. Beacon means lighthouse, and equal to lighthouses, beacons send a one-way signal to smartphone users to communicate a message from a specific place (a store). Beacons are small, battery-operated wireless sensors that attach anywhere in the store and send BLE (Bluetooth low energy) signals to nearby smartphones. Imagine the customer has activated Bluetooth, installed the store's app, and approved location services. In that case, the app will register the beacon device and send location-specific information to the store's server. This can, for example, be the department the customer has just passed. This data is paired with other data in the customer's profile, and based on this; personal offers are sent to the customer's smartphone.

Beacon technology is becoming increasingly popular with physical retailers, and major retail giants such as Urban Outfitters, Macy's, and Target are already on board. The global market for beacon technology is expected to grow from 1.17 billion dollars in 2018 and 10.2 billion dollars in 2024.