Read all about our 52RETAIL Mobile POS here



One of the headlines at the NRF was: "What's on Retailers' Agenda in 2019?". At Fiftytwo we want to keep growing and develop innovative solutions that make a difference for the retail industry. Our Sales & Marketing Director, Peter Møller, and our Director of Retail, Christian Baagøe, attended the whole event and they have brought back interesting trends and technologies for us to be aware of in 2019. For those of you who did not attend, we have gathered some of the most interesting tendencies within retail that we want to focus on in the future at Fiftytwo.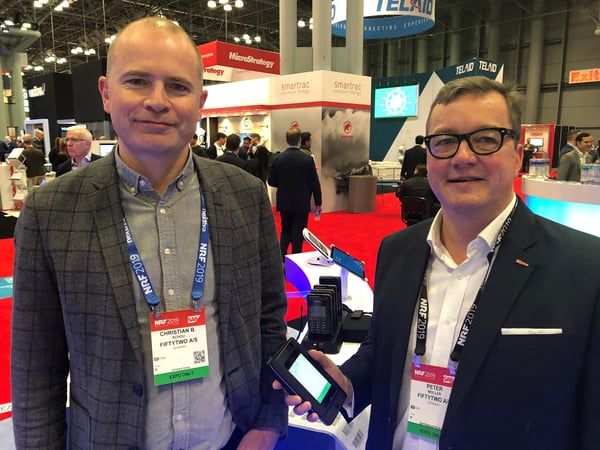 Embrace Consumer Journeys to Revitalize the Store
Studies show that 36% of consumers want a more personalized experience when shopping. A personalized experience in a retail store does not only consist of the employee getting closer to the customer by using a mobile POS. Many initiatives can be put into action when it comes to creating a personalized experience. If you want to gain further insight in this topic you can read this blog post explaining how you can give a more personalized experience.
Seamless and automated consumer journeys
Digitalization is not enough when it comes to giving your customers a good buying experience. This was also one of the subjects at the NRF Retail's Big Show in New York. There is a great focus on creating a seamless buying experience with the purpose of giving the customer an efficient and friction free experience. At the NRF, the importance of also giving a personalized consumer experience was stressed. This means, knowing your customer based on their actions and subject preferences will allow you to send customized offers instead of impersonal ones. We have written a blog post about exactly this topic – read it here.


Offline & Online

While there is a great deal of focus on the online part of the retail industry, the offline part is just as important. A lot of time is spent on the continious digital journey, but the physical store has to interest the customers for them to stay. The NRF had focus on how retailers can create a store that customers would want to visit and the following key points were listed:
Brand Building: stores as more than just distribution points
Experiences: deepen engagement and drive traffic
Service: differentiate through service offerings
AI in retail
AI was a great subject for discussion at the NRF this year as well. AI can be used in various ways to improve customer experience. If you want to improve the customer experience without having to add staff, AI can be the solution. Some of the functions are listed here:
Chatbots can be used to respond to customer requests and free time for your employees
Give your customers relevant content with the use of AI voice recognition
Gather data about each customer to make recommendations, predict preferences etc.
AI can also be used to change prices rapidly in response to competition and demand with the use of the AI-powered dynamic pricing
All these areas demand an omnichannel solution to get the perfect interaction. At Fiftytwo we're experts in creating the perfect omnichannel experience for which reason we found these subjects very interesting for the further development of our customers' retail journey.
Do you want to know more about what omnichannel is and entail? Read here and get in-depth answers to questions like: What is omnichannel? And what are the advantages of omnichannel in retail?