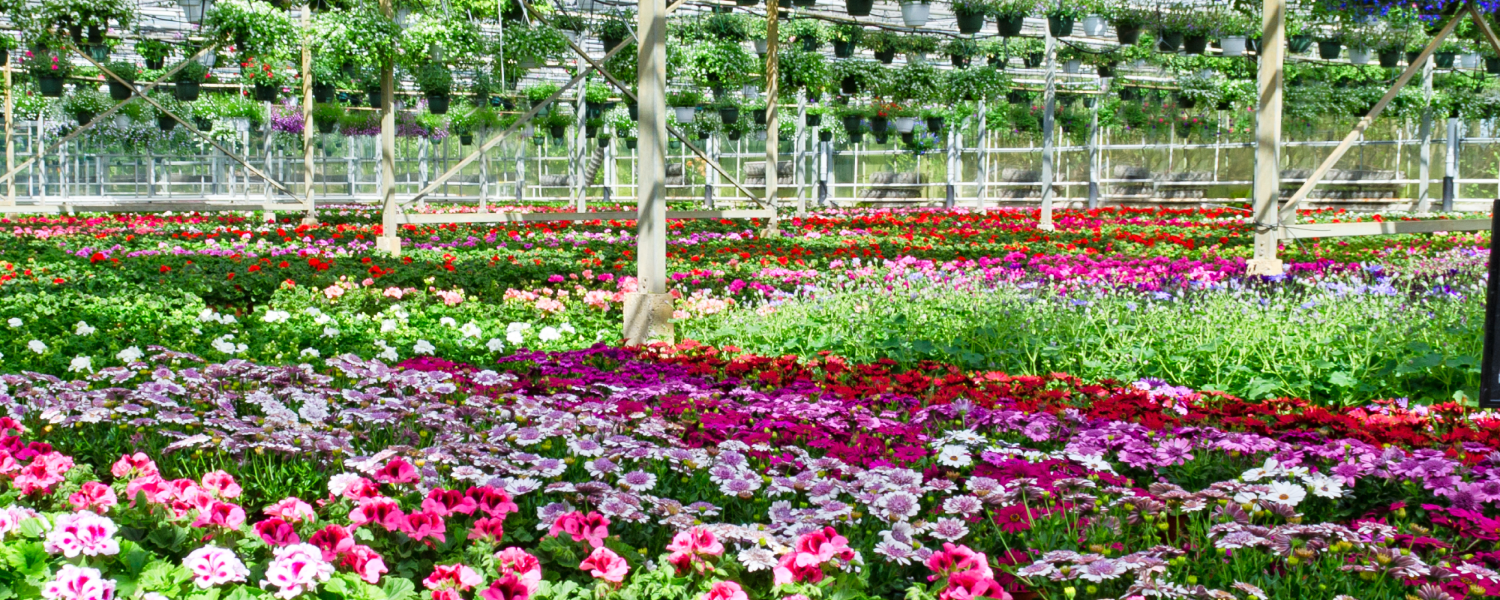 skadsblomster.dk
New POS solution
and implementation
of a webshop
Skads Blomster is a large garden center located in Esbjerg, and it is owned and run by the married couple Rasmus and Trine Uldahl, who took over the garden center back in 2003. They have a vast selection of garden plants, seeds, indoor plants, dried flowers, bouquets, jars, and seasonal items. In terms of price, they are cheap, and they have lots of happy customers who visit them most of the year.
To serve their customers in the best possible way, they invested in a cloud-based POS solution a few years back for the four physical boxes from which the garden center serves its customers. The solution was both economical and reportedly stable. Unfortunately, they experienced that their customers could not pay, that they could not scan the goods properly, and that the solution, in general, was slow and very unstable. With a loss of earnings and unsatisfied customers, as a result, they decided to replace the existing solution as soon as possible.
"Our POS solution was too unstable, and we experienced time and time again that it broke down. We could not help our customers this way. We had to get a new solution."
- Trine Uldal, owner of Skads Blomster

Therefore, they reached out in October 2019. After reviewing their setup and requirements specifications for their future system, they were offered a solution consisting of four new Diebold Nixdorf All-In-One boxes with associated 52RETAIL software. The solution was installed in mid-November, and within just 14 days, the garden center was 100% up and running with a very high degree of stability. The new solution has been incredibly easy for the staff to become familiar with. They have completely avoided a long and sluggish learning period, which is usually associated with replacing central infrastructure in a store.
"We experienced an incredibly easy transition to our new reliable POS solution from Fiftytwo - helped by a very competent consultant who made a big difference for us in the start-up phase. As a former grocer, he understood our situation and our business 100%."
- Trine Uldal, owner of Skads Blomster

At the beginning of March 2020, the Covid-19 pandemic hit Denmark, and large parts of the country were shut down. For Skads Blomster, it meant that time between visiting customers increased, even though they were approaching their seasonal most significant sales period. With plants and flowers as the main ingredients in the range, it was clear that time was short. These are perishable goods that wither if they are not planted in people's gardens. That is why the garden center contacted Fiftytwo once again to get a webshop up and running, preferably in record time.
"Spring is our absolute biggest season in terms of revenue, and therefore it was critical that our sales were suddenly threatened by the Covid-19 crisis and the lack of customers. Therefore, it was a huge benefit for us that we got a webshop up and running in just 36 hours."
- Trine Uldal, owner of Skads Blomster

They called on Wednesday at 8.45 am, and immediately after, a start-up meeting was arranged over the phone at 10 am the same day. Because it was business-critical for Skads Blomster, they were a high priority. This meant that the day after, at 1 pm, a usable webshop was up and running with the most basic functionalities. The solution is built on a 52eSELLLER SUITE eCommerce platform, which can be expanded with a wide range of functionalities and features over time. Thanks to the webshop, the garden center was able to deliver "take-away", also called click and collect, flowers to their customers in no time. The concept is simple: Customers place their orders on the webshop, the ordered items are packed and prepared, and customers pick up their orders in the parking lot; thus, the customers have as little physical contact as possible with the garden center's employees and other customers.
Although the webshop was developed as a here and now solution, the Jutland garden center couple does not doubt that it will benefit their business in the long run. They admit that it requires a lot of effort from them to adjust to the webshop. None of them have a great experience with running a webshop. It will probably be a little challenging - especially in the beginning. But there is no doubt that a webshop is the future for most stores because it enables them to serve customers both physically and online. In other words, to create an omnichannel experience for customers. However, the range in a garden center differs slightly from different types of shops because customers have a habit of wanting to see, touch, smell, and feel the plants and flowers they buy. But when a crisis like Covid-19 hits so suddenly and shuts down most of Denmark, it hopefully also causes customers to slowly change their behavior when buying plants and flowers.
Fortunately, the garden center also has several seasonal items on the shelves, such as for Christmas, where they fill up one of their greenhouses with Christmas decorations from China. And precisely these items can easily be sold via their webshop. The Christmas decorations are nice and carefully selected by the couple themselves, but the prices are low. The garden center usually has many extra customers in the shop at Christmas.
"We have quite a lot of seasonal items, and in fact, we usually go to China ourselves to buy our entire Christmas range. We empty a whole greenhouse, from which we sell a lot of fun and cheap Christmas items. This year, it could easily make sense to start selling these seasonal items via our webshop."
- Trine Uldal, owner of Skads Blomster

At the moment, Christmas may seem like an event in a distant future now that Spring is almost mere. Easter is the next big event, where the Danes put on their work clothes and get ready to get in the garden. Hopefully, many of them make their way past Skads Blomster and fill their cars with many fresh flowers and plants. The garden center has a very active Facebook page with a lot of beautiful pictures of their large assortment, and there is no doubt that they can draw customers to both their store and their new webshop.


Facts
Skads Blomster is a large garden center with its own horticulture in Esbjerg

It is owned and operated by Rasmus and Trine Uldahl and has 13 employees

The range covers a huge selection of garden plants, seeds, indoor plants, dried flowers, bouquets, pots, and seasonal items

In November 2019, they installed four new POS checkout terminals with

52 VIKING

In March 2020, the garden center also got a webshop developed on

52eSELLER SUITE