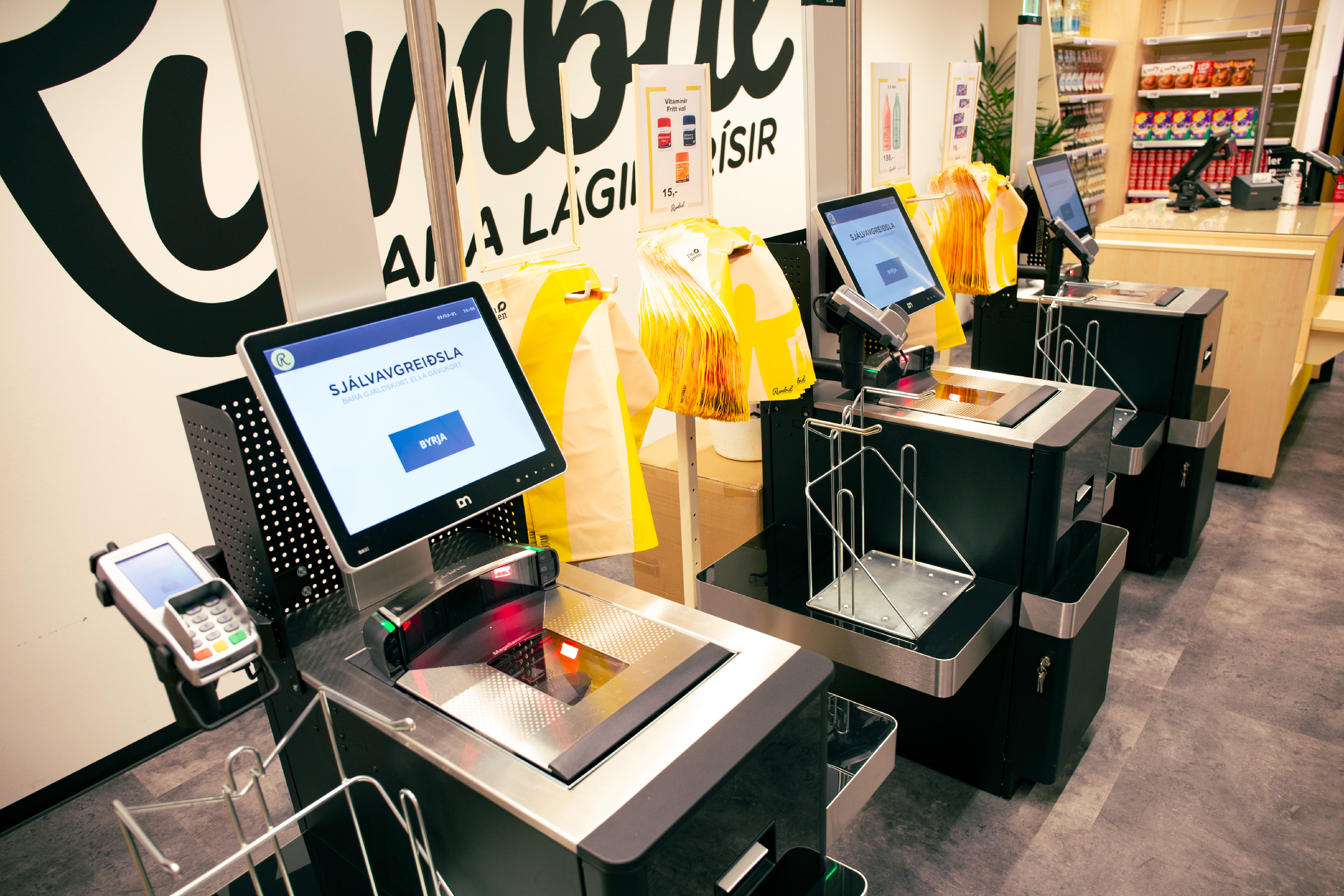 SMS P/F
North Atlantic Retail Group is Taking a Leap into the Future with 52ViKING
Goodbye to downtime and hello to future-proof point-of-sale solution with, i.a. integrated discount and promotion engine. In collaboration with Fiftytwo, the Faroese retail group SMS P/F has created the foundation for new, state-of-the-art, customer-facing store solutions. Most recently, with the introduction of self-scanning for customers in the Faroe Islands' leading food stores.
With a switch to the 52ViKING platform, the North Atlantic retail group SMS P/F has, according to IT manager Jóhan Ziskason, taken a leap into the future with one of the market's best and most future-proof self-checkout systems for retail. No more worries about unplanned downtime. Instead, the way is paved for the group's stores to delight consumers with new technology.
We were in a situation where our previous POS system, used across more than 20 stores, had regular downtime. It was, of course, unsustainable. Therefore, we went in search of a new system for our chains. Via Dagrofa, with whom we collaborate, we were introduced to Fiftytwo and the 52ViKING platform, which we quickly could see several benefits from.

- Jóhan Ziskason, IT Manager, SMS P/F
Johan continues to say that the new platform meets all speed, stability, and uptime requirements. They have not seen downtime, and the integration to their backend and Navision works flawlessly. Also, he says that 52ViKING also opens up an exciting world of new functionality and operational reliability.
According to Jóhan Ziskason, SMS P/F's new backbone for payments and price control also contains a sea of well-proven functionality that has not yet been used. This applies, for example, to the advanced discount and campaign engine, which is built into 52ViKING, and which, according to the plan, is to be rolled out to the Faroese soon.
We have a whole range of new initiatives that we are working on implementing. Here, self-scanning, which we introduced in 2020 in our two grocery flagships, Miklargardur, and our new, Normal-like, Rumbul store, is something we have excellent experiences with. Customers have welcomed the opportunity to manage check-out themselves. So we plan to unfold it to more stores in 2021, as self-scanning fits well with several of our concepts.

- Jóhan Ziskason, IT Manager, SMS P/F
Also, around the introduction of electronic shelf labels across concepts and stores, the SMS group has benefited from implementing it on top of the new platform. An initiative that has made everyday life significantly easier for the stores regarding price management.
Strategically important initiatives lie ahead, which have in common that they all build on the functionality of 52ViKING and gradually open the door to new opportunities for both the SMS Group and consumers in the Faroe Islands.
We are looking into exciting perspectives in the solution concerning our ambitions of, for example, Click and Collect and Personal Shopper, projects we have on the drawing board. The fact is that 52ViKING is a future-proof product that is constantly optimized and adapted online and offline. In this way, the new platform fits as a backup for the online investment we have on the way in 2021.

- Jóhan Ziskason, IT Manager, SMS P/F
Foto credit: Ditte Mathilda Joensen
According to Jóhan Ziskason, SMS P / F has also gained a partner with Fiftytwo with a deep understanding of the market and the group's needs within both food and retail. But not only that. Despite the distance to the North Atlantic islands, he also highlights the local understanding with which Fiftytwo has entered into cooperation.
We need a partner with accessible support who understands both the unique environment in the Faroe Islands and our company in depth. Therefore, Fiftytwo comes with profound experience and, at the same time, expertise in all the areas around new technology that we find interest in. It is extremely reassuring to have such a partner on board.

- Jóhan Ziskason, IT Manager, SMS P/F
Short about SMS P/F
The company was started in 1979 and has grown ever since. Today, the group consists of two shopping centers in Torshavn. One owns i.a. four quality bakeries with central bakery production, eight discount stores in the Faroese Bonus chain around the islands, and the food flagship Miklagardur in Torshavn. SMS P / F is also behind Burgerking and runs Power and Skoringen's local departments. In 2020, the group opened three new stores in a new Normal-like concept called Rumbul. SMS P/F is the largest retail player in the Faroe Islands and has approx. 800 employees.